Footgolf – open 7 days a week
What is FootGolf? Well imagine a game that combining the best of football and golf, two of the most popular sports in the world… FootGolf is exactly that!
The objective of the game is to kick your size 4 or 5 football twice around our beautiful 9-hole course in as few kicks as possible! The game can be enjoyed by almost all ages and equally by men and women, boys and girls! We guarantee that FootGolf will have you hooked! To book a tee time, please click here or call 01886 853288 (option 2)
Adult (15+) £10pp
Child (14 or under) £5.00
Family 1 Adult, up to 4 children £19.00
Family 2 Adults, up to 3 children £29.00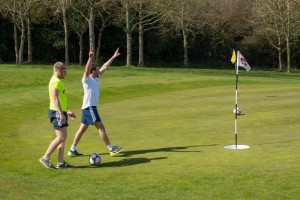 ---
Group Bookings

Ideal for groups of all ages!

We cater for team visits, corporate days, school visits, football tours, local football teams, local groups, fund raising days, children's birthday parties and much much more! Why not book one of our packages to include a light lunch from £14pp or 2-course lunch from £18pp.

---

Testimonials

"Sapey FootGolf course is a real test of your footballing ability – the fact they play on the proper Par 3 Golf Course greens makes putting a nightmare, BUT real fun. Other footgolf courses appear really crude and unkempt compared to Sapey's FootGolf Course" Shaun White – Hampton, London

"I took my youngest son to Sapey Golf Club to hold his birthday party there by playing FootGolf with a group of his mates. The boys loved it, great value, great fun" Chris Baigent

"My son and I had such a fun afternoon playing footgolf toward the end of the summer holidays. Not only was it a great mother/son bonding day, the age/gender problem didn't matter at all. To top it all we finished off with lovely meal. My son can't wait for me to bring him again!" Lucy, Hereford

---

Footgolf Etiquette

We respectfully ask you to note that coarse language and shouting is not acceptable on the FootGolf Course or within the Clubhouse by either players or spectators and we thank you in advance for respecting other players and our neighbours by keeping the noise down.